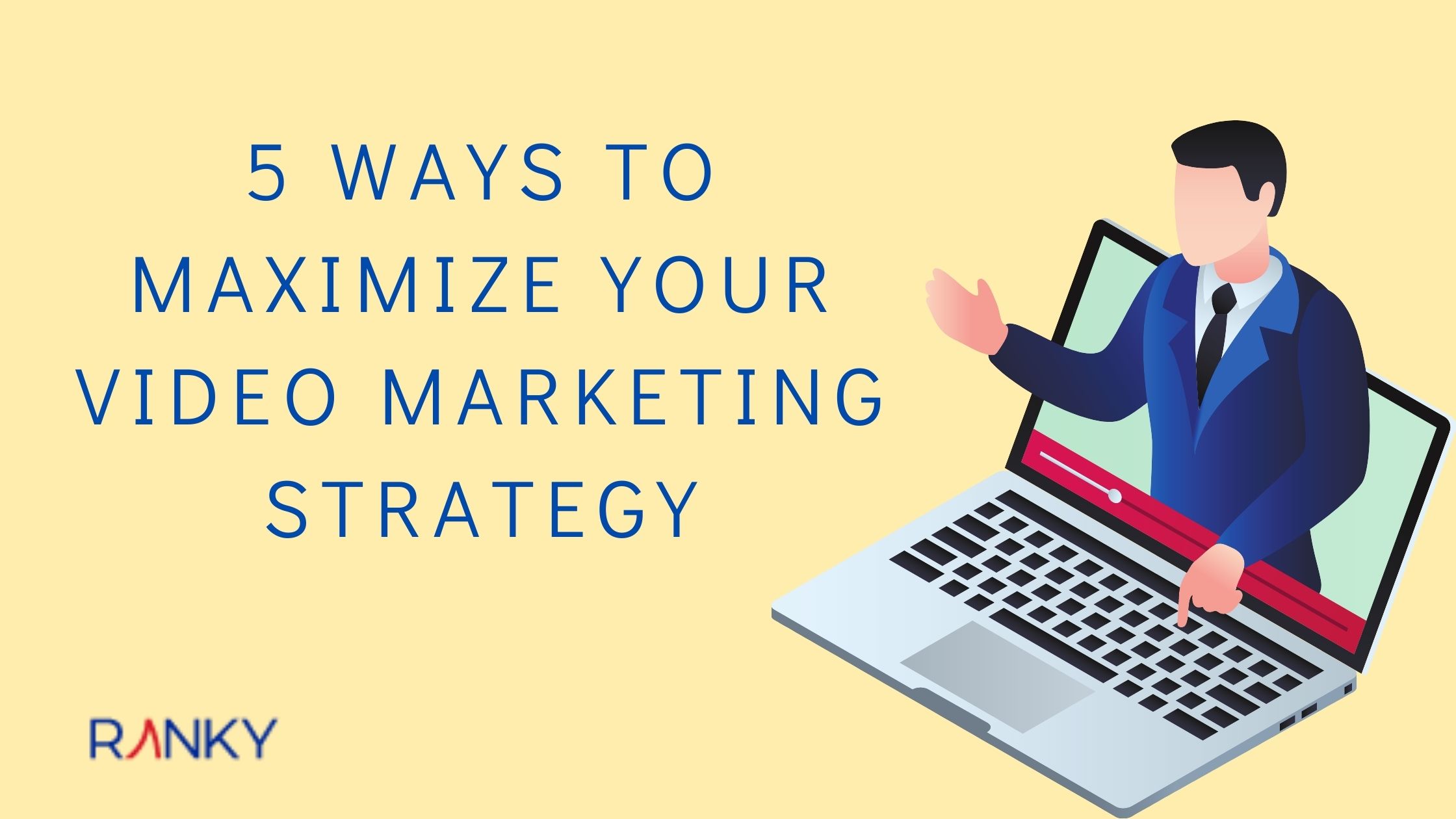 As a marketer, you know how important video is to your content strategy.
94% of marketers say that video can help increase understanding of products and services, making it a vital part of your communication toolkit.
It's not as simple as shoot, upload, and done.
You need to use your video wisely to maximize your engagement and returns.
Want to know more?
We've got five ways that you can boost your video marketing strategy.
Take a look.
Tactic #1: Repurpose the Content You Already Have
The first way you can get the best out of your video marketing is to repurpose your best-performing content into a fresh video.
Think about which type of LinkedIn post gets good engagement or what your top-performing blog posts are, for example.
People are interacting with them for a reason, so use what you've already researched and succeeded with and create a video to really drive home the message.
Let's check out an example so you can see how it works.
Example: Visme
Visme, a visualization & presentation software company, created this blog to guide anyone who needs to write a proposal through the process in 10 steps.
Image Source: Visme
It's full of actionable content that really offers value to those who need it.
To capitalize on the work and research that went into the blog, Visme ran with it and has repurposed the content into a video, giving the same information in this super-popular medium, as you can see below.
Image Source: YouTube
You don't need to come up with completely fresh content ideas for every single video in your marketing campaign.
By taking topics that are already working for you, you can translate that success into video and reach a different type of consumer for your brand.
Tactic #2: Use Live Streaming
Next up on our list of ways to boost your video marketing efforts is to harness the power of live streaming.
Going live should definitely be in the mix of your strategy, with one survey showing that 66% of B2C content marketers are using live stream video in their marketing.
Marketers are using it because it works, both as a way to reach new audiences on live-streaming platforms like Facebook or Tik Tok and to present extra value to customers further down the funnel who are already exploring your website.
Here's an example:
Example: Blair Singer
Blair Singer offers a range of coaching packages to help people improve their entrepreneurial skills, sales, and team building.
The site has a whole range of video-on-demand training courses that members can access with tiered membership packages.
On top of that great value offering, users can also access live events through the site, like so:
Image Source: Blair Singer
Site members can attend weekend-long, live-streamed webinars to boost their leadership skills even further, with group sessions and one-on-one interactive coaching as part of the package.
Image Source: Blair Singer
When you have potential customers looking at your offering or existing ones considering an upgrade, being able to point to your live stream packages will demonstrate the value available.
Tactic #3: Optimize Your Videos for SEO
As marketers, we know how important getting your content to rank on the search engine results pages (SERPs) can be to your brand.
Having a suite of relevant and well-optimized video content gives you two big benefits:
You have the chance to get featured on Google's video carousel search results.

You can potentially rank in the results for YouTube, the

second biggest search engine in the world

after Google.
YouTube is where you want to be uploading your video to get featured on the SERPs - according to the Wall Street Journal, YouTube is featured in up to 95% of searches compared to other video hosting platforms.
By following search engine optimization (SEO) best practices for video, you can claim more space on the SERPs and position your brand as a leader in your niche.
Want to see how that works?
Example: Uscreen
Uscreen, a video monetization platform, has created a plethora of YouTube videos across 3 channels as they understand how useful it is in terms of engaging with audiences and appearing in relevant searches.
They use a range of SEO techniques to help get their videos to rank on the SERPs, such as:
Adding keywords into video titles

Using relevant tags

Inserting target keywords into the video description

Including a custom thumbnail

Putting chapters in videos so Google (and users) knows what's happening
As you can see, when you search "twitch video monetization," they come out on top on YouTube:
Image Source: YouTube
… and over on Google…
Image Source: Google
… the video is the first result on the video carousel, including the chapter points that they've added.
Tactic #4: Make Your Best Videos Gated
When you can really add value to your audience with the amazing video content you produce, you can ask for something other than money in return.
By gating some of your video content and asking for an email address before allowing access, you can build an email marketing list of people who are keen to engage with your content.
Once you have a contact list, you can start to use that to build relationships that can turn to leads and clients.
Example: Product Tour by Marketo
Adobe's Marketo is a marketing automation software with lots of features to measure engagement and workflows.
On the homepage, their call-to-action (CTA) encourages visitors to take a product tour.
Image Source: Marketo
When someone is ready to take a tour of the features, you can be pretty confident that they have an intention to buy in the near future.
Marketo uses that to their advantage and gates this useful content by asking for an email and other business information before allowing the user to watch.
Image Source: Marketo
By gathering viewer information, the company can develop a list of leads and start an automated sequence of emails to lead them down their marketing funnel.
Tactic #5: Improve Engagement for Your Videos
To really get good returns on your video marketing strategy, you need to create attention-grabbing content.
Whether you're creating explainer videos, unboxings, or a how-to guide, you want to increase engagement so you have strong relationships that you can convert.
Some of the ways that you can increase engagement rates with your content include:
Answer questions your audience asks

Talk directly to your audience in your videos

Use video annotations and CTAs

Use the right length of video for the platform you post on

Have an attractive thumbnail
Example: Ahrefs
Ahrefs offers a range of tools to improve the SEO on your website and videos and has over 230,000 subscribers to its YouTube channel.
Image Source: YouTube
Straight away, you can see that the channel has a unified aesthetic, with a color palette that matches the brand and thumbnails that are at once fun and explanatory.
Image Source: YouTube
Looking at this video above in particular, Ahrefs have all the elements you'd expect from an engaging video:
The content answers a question with actionable advice.

There are fun graphics, animations, and annotations throughout.

The presenter addresses the audience directly, using " you" and "we."

A CTA invites comments and questions, with nearly 400 comments on the video.
Another effective way to engage viewers is to have chapters and timestamps.
Image Source: YouTube
YouTube only introduced in-video chapters in May 2020, so this video from 2019 doesn't have them. But, they have included relevant information in the video description so people can jump to exactly what they need.
Now Over to You
Those are our five ways you maximize your video marketing strategy.
Why not try these out and see the difference in your next marketing campaign?
------------------------------------------------------------------------------------------------
Author Bio:
Amir Shahzeidi is the SEO Lead at Uscreen, an all-in-one video monetization and OTT platform provider that empowers video entrepreneurs and creators to monetize their content and build thriving businesses around their videos.