We all know that feeling of trying to find the perfect strategies to help reach customers and make sales. With the number of companies selling online these days, you're probably looking for ways to expand your online presence and get customers to purchase through the web. When it comes to e-commerce, here are some of our favorite marketing tactics.
Incorporate Remarketing Campaigns
While it's exciting when customers load up their shopping carts, you haven't clinched their purchases until they actually check out. And unfortunately, studies show that the average cart abandonment rate is almost 70%.
The good news, though, is that reminding shoppers of their abandoned carts can greatly increase their chances of purchasing. Email remarketing campaigns, in particular, are a useful and effective way to gently remind users that items are waiting for them in their cart.
You can launch similar remarketing campaigns with wish list reminder emails. Even when users don't have anything in their cart, you can still cater to their interests in their "wish list" items.You might just remind them how much they loved the products and drive them toward their purchase.
Incentivize the First Order
For customers who are new, it's critical that you incentivize first-time purchases. Incentivization is important because it converts users from casual browsers to customers. This can go hand-in-hand with remarketing campaigns, since casual browsers--first-time users, in particular--tend to fill up their shopping carts but abandon them before making a purchase.
Often, first-time users are on the fence about making a purchase because they have no way of verifying the quality of a product without holding it in their hands. Incentives are a great way to persuade them to take a leap and make that first purchase. Once users buy for the first time, they'll believe in the credibility of your brand--and are more likely to become loyal customers.
Up Your Email Marketing Strategy
There are two steps to improving your email marketing. The first is to draw more email subscribers. The second is to enhance the email campaigns themselves.
To capture more subscribers, make your email sign-up bar prominent and easily accessible on your site. Effective ways to ask for user sign-ups are to include a sign-up bar or pop-up at the end of your content. A user is more likely to solicit your company's service or product once they determine if you're a helpful resource.
Once you get more subscribers, you'll need to improve those email campaigns to maximize their effectiveness. Sending emails for the sake of emails could come across as spammy, but sending emails that highlight useful services or provide helpful advice will keep many users engaged. For example, you should send your customer a welcome email as soon as she signs up. And after a purchase, you can send a customer a thank you email, complete with links to additional resources on your blog.
Use a Referral Campaign
Referral campaigns are easy to implement and widely effective. The benefit of referral campaigns is that by relying on loyal customers to recommend your company to their friends, you're not only reaching new customers but also establishing credibility and trust.
One great example of a referral campaign is that of Lyft. Lyft combines the notion of first-time user incentivization with referral campaigns, broadening its user base by incentivizing customers to recommend the service to their friends.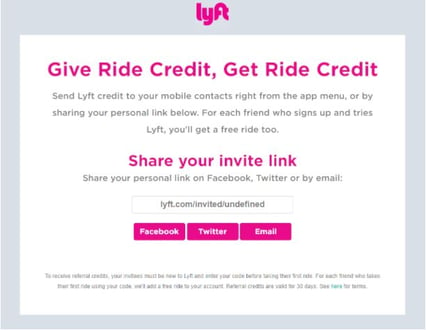 Integrate Social Media
The hype around social media is bigger than ever--and it's not going away anytime soon. As an e-commerce company, it's essential that you move your online presence beyond your website and take advantage of the vast numbers of users on social media.
Instagram and Pinterest are great places for you to share. This is particularly true if you're selling photogenic products, like clothing or home decorating items. Going behind the scenes with your product and incentivizing users to participate in Instagram contests are great ways to build your Instagram following.
The Facebook Store is another good option. Your company probably already has a Facebook page (if it doesn't, get one!), and through it you can easily allow customers to make purchases directly. The more places available for people to buy, the better.
Encourage User-Generated Content
Getting your brand on Instagram, Facebook, and even YouTube also provides another great opportunity: showcasing user-generated content. The benefit of user-generated content, such as photos and videos taken by users with your product, is that it displays content in a way that's more personal--and more believable--to other users. It also highlights your company's popularity, making more people want to buy.
It's helpful to include user-generated content not only on your social media feeds, but also on your e-commerce site itself. Letting users upload product photos to your site is a great way of showing hesitant online shoppers what a product looks like "in real life." This is particularly useful for online retailers, whose customers are more likely to buy if they have a better idea of what the product will look like on them.
Modcloth is a great example of a retail site that effectively incorporates user-generated photos: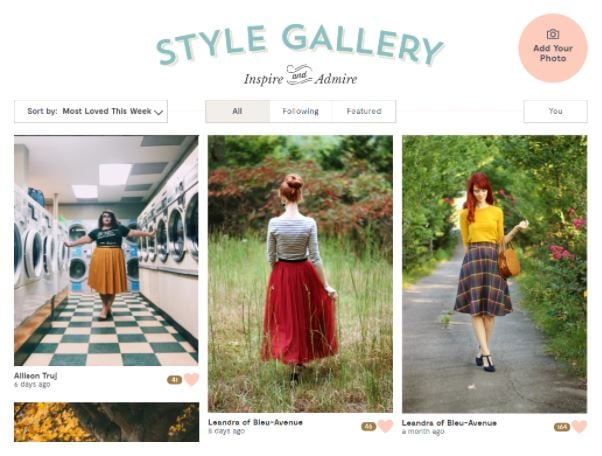 Blog Regularly
Ever heard of inbound marketing? Inbound marketing is all about letting your customers find you. Blogging regularly is a great inbound marketing practice. Not only is it good for SEO, but it also helps you connect with customers and build the credibility of your brand.
Don't begin your blog by posting aimlessly; instead, each blog post should have a purpose and should directly address customer pain points on specific issues. The best way to draw customers to your blog isn't to blab about your company but, instead, to show empathy with potential customers and answer their questions. This will help create loyalty and trust and establish your company as a knowledgeable leader in the industry.
Conclusion
While there's lots you can do to improve your e-commerce marketing strategy, these 8 steps will help guide you toward a more inbound approach. Whether you're emailing potential customers or posting on Instagram, it's important not only to reach out to your customers, but also to let your customers come to you. Combining traditional tactics with an inbound approach is a great way to expand your reach and drive sales.