I originally posted this on Inc. Magazine.
Whenever a new startup approaches us, these are some of the free tools we use to analyze their online competitors. We've checked about 200 tools before coming to this conclusion, so hopefully this tutorial will save you some of the time we have spent!
OpenSiteExplorer
This addicting free tool from the house of Moz, is probably one of the more well-known platforms for investigating a website's marketing efforts and search engine authority.
As some people may it find rather simple, there is a lot of in-depth work that can be done with it.
For our example, it's easy to spot who is mentioning and linking to your competitor. Why not get inspiration from them about what type of sites might be able to link to you, or even outreach to the same blogger for a content co-operation that will benefit you as well?
OpenSiteExplorer is one of the most dynamic tools I've ever come across. For instance, if your online competitor is a startup working super hard on their SEO efforts, getting great social mentions and links from all over the web, you might want to pay a visit to the tab called "Just Discovered".
This tab amazed me, as it's actually showing us the links that went live just a few hours earlier, with the exact time of going live.
All awhile, Google's official backlink research tools such as Webmaster Tool's "Links To Your Site" section, takes a few good days or even weeks to show you new backlinks.
QuickSprout
One of my favorite online marketing blogs, QuickSprout is managed by the Founder of companies such as CrazyEgg and KISSmetrics.
About half a year ago, he built a nice free tool that launches upon visiting his homepage.
Let's say you are my online competitors, performing Growth Hacking for startups; You will most likely be interested in knowing what are the best posts in my own company's blog, as you will guess that I'm using it to market myself.
So QuickSprout lets you analyze the entire website of your competitor and shows you the amount of social shares each blog post received. Using the tool on my site, you can see that a post called "Growth Hacking 101" is more interesting to the public than other posts.
Why not copy my headline--but write a much better post that will steal the spotlight from my site to yours?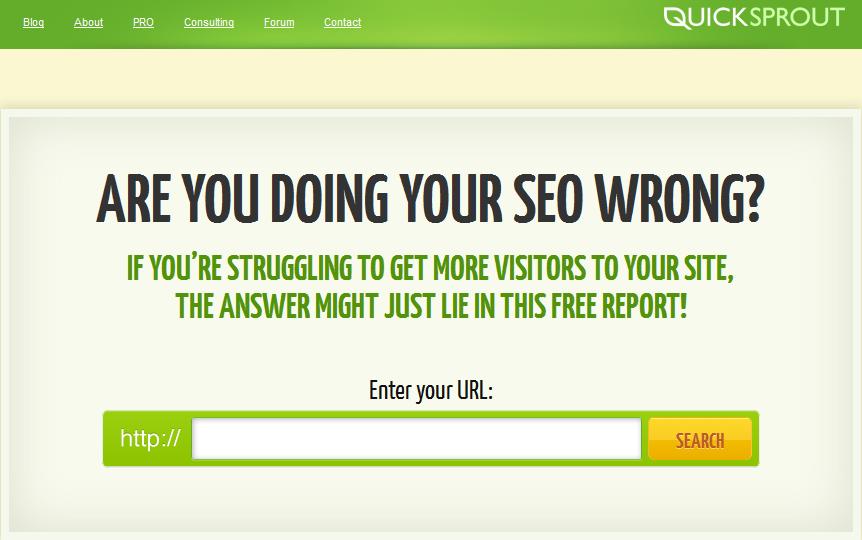 HubSpot Marketing Grader
We all know HubSpot, a premium and rather pricey platform designed to be a one-stop-shop for any marketing effort out there. You can use it for pretty much anything, from designing landing pages to managing your company's social accounts.
However, few people know of their free tool called Marketing Grader.
Upon scanning your competitor's site, this tool lists all of the basic marketing actions he's taking or not-taking.
To illustrate it, I analyzed the marketing efforts of a rather well-known startup.
This startup--which by all means dominates its niche--received a low grade of 44 out of 100. Stepping into each category in separate you can learn what they are doing wrong (or not at all).
For instance, they haven't even set up their company blog yet, and we all know the influence of a good blog to attract traffic, social followers and eventually sales.
If they are your competitors, you should hurry up and set up your blog--and make it amazing. That way, as big as they are compared to you, they will take a lot of time to catch up with the audience and followers your blog attracted.
Final words...
In Online Marketing or Growth Hacking, there's not much as being the "best". All it takes is spotting your existing competitor's actions and being a bit better.
There are literally hundreds of ways, tools, tricks and hacks to do so--and I promise to go over my favorite ones in this column.
Are you using any other tricks to spy on online competitors? Let me know which tools you recommend.