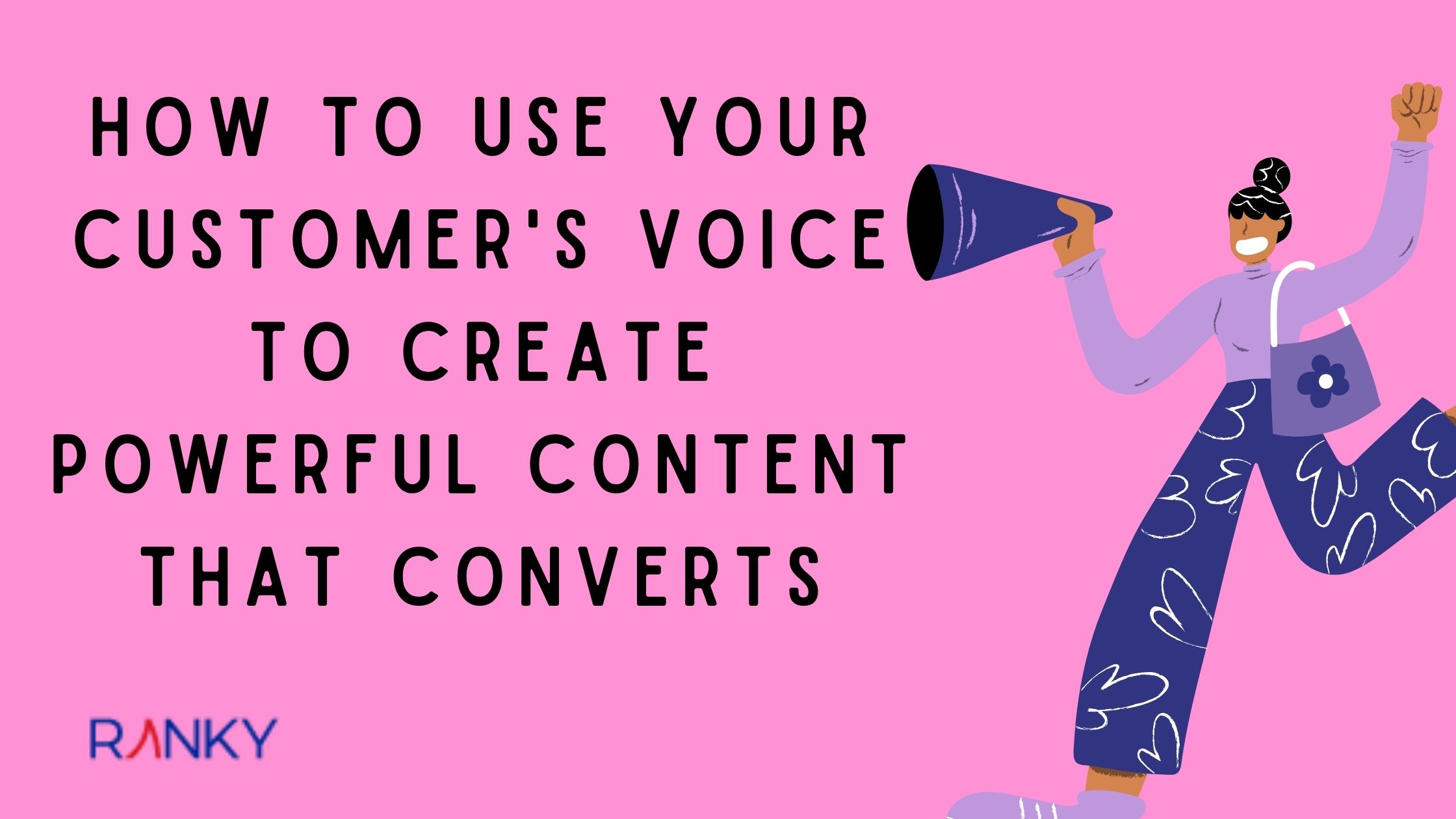 It's widely recognized that listening to your customers can help you build a better customer experience, and improve key business metrics like customer retention. But your customer's voice can also play a pivotal role in your marketing strategy. In fact, it can do something that no amount of branded copy can do: building trust with your target audience.
Thankfully, authentic reviews are a scalable and accessible channel to leveraging the voice of your customers.
Yet many companies let this valuable resource go untapped. To help you avoid the same trap, let's dive into why your customer's voice is important in your marketing strategy, and how to use that voice to create powerful content that resonates with your audience and helps them convert.
Why Authentic Reviews Are Important for Your Business
While there are many ways to listen to your customers and gather feedback, reviews are one of the best vehicles to bring the customer's voice into your marketing strategy. This is because reviews generally exist in a public forum that your buyers are probably already consulting, and generally trust.
There are a few reasons authentic reviews are important for any business:
Authentic reviews add credibility to your brand. Many buyers trust online reviews almost as much as a word of mouth recommendation. Reviews offer a form of social proof and useful information for buyers, that you can't deliver in your marketing copy alone.
Authentic reviews help you improve. First, gathering in-depth feedback from your customers can help you understand where there are opportunities to improve your product and your customer's experience. But reviews can also improve your marketing messaging. Paying attention to how your own customers describe your product can help you home in on the language that will resonate best with your buyers.
Authentic reviews help your buyers get the information they need to buy confidently. According to this TrustRadius research, when B2B buyers can't find both positive and negative feedback about a product, as much as 70% of them keep researching or get suspicious, thus stalling the deal cycle. Other reports show that when buyers can't find any reviews, they simply won't buy.
Finally, your target audience is already using reviews to discover products in your market and evaluate your brand.
According to a recent TrustRadius survey asking buyers during which stages they used reviews, 76% of them said they used reviews to discover new technology products, 69% used reviews to evaluate a product, and 43% used reviews as a decision factor in selecting a product.

Buyers are using online reviews throughout the buyer's journey and through the sales funnel. And you can make it easy for them by bringing reviews into your marketing efforts.
Another report by TrustRadius highlights just how important your customer's voice is. Reviews were the second most commonly used information source by buyers, after product demos.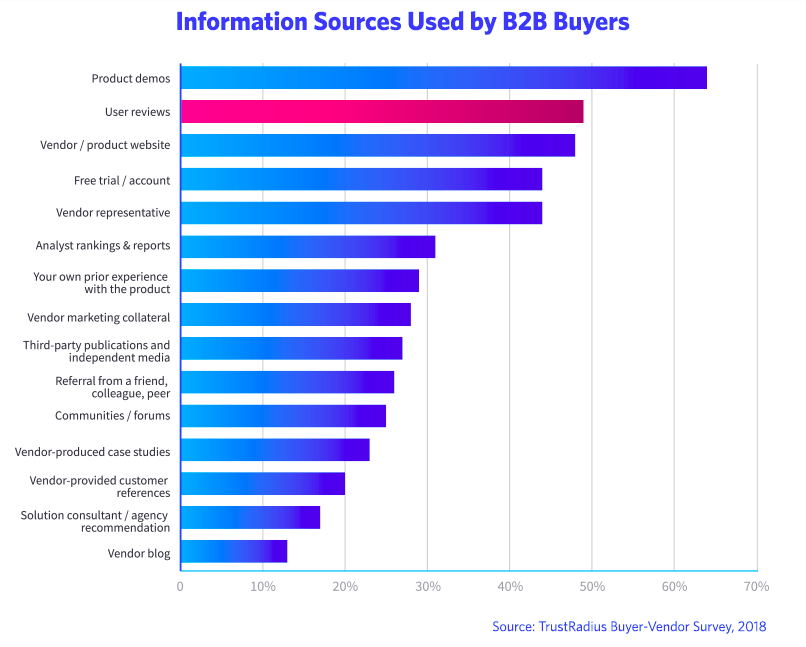 Using Your Customer's Voice for Powerful Content
If you're interested in including your customer's voice into your marketing strategy, but aren't sure where to start, here are a few key steps and tips.
Step #1: Make sure others at your company are on board
Any program will be more successful if multiple teams at your company have bought in. Take time to walk through exactly how you'll use customer reviews and why it matters for marketing, sales, customer success and product teams. Getting everyone on board will help things move more smoothly as you start out.
Step #2: Identify & own review listings
Before encouraging reviews, you should first identify where your company is listed and what kind of feedback you've already received. You can use a backlink research tool to identify the review platforms you are listed on. You can also run your own Google searches to understand where your buyers are already looking for reviews of products in your market, even if your product isn't listed. Make sure your product is listed, and that important details like logo, name, and features are up to date on all relevant sites.
Step #3: Invite a variety of customers to write reviews
As you start outreaching for reviews, make sure you avoid cherry picking from one type of customer. Your target audience is likely made up of a range of companies and individuals, and people typically look for reviews from users in similar roles with similar use cases. You also want to set the stage for your customers to leave honest feedback. Buyers are typically doubtful of reviews that have no critical feedback at all.
Step #4: Get the most out of your reviews by bringing them into your marketing mix
Once you have built a solid base of reviews, encourage your buyers to look at your reviews. Include links to your listings in your nurture streams, and call out individual reviews on your social channels by thanking those customers. This will help buyers see that you're open and transparent about feedback on your product. You can also find ways to incorporate reviews and customer quotes in your marketing collateral, though this will likely require permission from the review site or reviewer.
Step #5: Stay engaged throughout the process
This is not a one-and-done plan. You'll need to actively engage with customers to encourage reviews, and then follow up with both customers and your target audience once reviews start to come in. Thank customers for sharing their feedback, respond to negative feedback graciously and publicly, and actively share all types of feedback with the right internal stakeholders.
Brooklin Nash writes about the latest tools and small business trends for TrustRadius. When he's not writing, you can find him reading YA dystopian fiction (with guilty pleasure) and cooking.