When done properly, guest posting is a marvelous tactic to build your own online reputation, brand awareness and to create inbound links to your website pages.
Links Are Key in Content Marketing
You probably already know how to guest post properly (with one little pointer from us to leverage it), however you might not have been paying enough attention to your author bio structure - particularly, the link included in it.
First off, from an SEO perspective, you should NOT link to your 1-2 main pages over and over again. When was the last time you went over the 'Links To Your Site' section under Webmaster Tools and took note of your most linked content?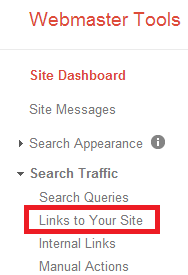 Does your homepage take about 90% of the links? If so, my next advice will not only be to improve your SEO, but also to leverage your content marketing's lead generation to an all-time high.
Match Page To Guest-Post Reader
Let's say, for example, that you market an iPhone App which helps people smartly arrange their busy schedules. You build a content marketing strategy for your App, which, must already have its own website. The content marketing plan includes following influencers on social media and sharing tips on app review blogs. Most importantly, make sure it also includes guest posting for leading blogs of different niches.
At this point, you're probably confused about the meaning of this paragraph's headline - 'match page to guest-post reader'. After all, we're not talking about PPC, which lets you oversee all your traffic and landing pages, and ensures that each targeted user sees the design and copywriting you want him to. However, even if in a different way than PPC, also content marketing allows you to monitor your audience.
If you contributed an article to a popular blog intended for businessmen (Examiner, Forbes), for example, you can build a landing page designed exactly for that audience, and link to it just from that guest post:
Hey Examiner readers! Hope you enjoyed my guest post!

As you noticed from my article, I'm deeply familiar with business managment.

Would you like to try my Calendar App? It's made by businessmen, for businessmen, and it's going to change your busy lives.

You might even be lucky enough to write for an entertainment industry blog. Let's imagine you write for Perez Hilton's popular gossip blog.
So you've written your article for that blog and then you've linked from your author bio to a different landing page on your App website, created ad-hoc for that sepcific audience:
This page could say something like:
Hey Perez Hilton's fans!

If you want to set reminders about Miley Cyrus's next performance in your town and add them to your busy schedules, you should try my Calendar App!
To sum up, just imagine the amount of conversions you will win if you just send the right people to the right page and if you diversify your website's most linked pages.
(Images courtesy of rebloggy.com andh campusministrytoolbox.org)