Hey munchkins, ever wondered how you should optimize your display campaigns in a really easy and fast way? There are two main options of targeting when setting up a display campaign such as:
1. The most common type is a campaign in which you can pick specific placements, keywords etc.
2. Remarketing campaigns that reach out to users who visited your website from websites that have Adsense ads in them.
Now, you're probably asking yourself:
"What's the big deal? Display campaigns are usually cheap, we get free branding if no one clicks, and even if we do get irrelevant clicks, it's not that bad, right?"
Well, that's one way to look at it, but don't forget:
Clicks = Money - In the long run, you can clearly see how much money was spent and you might be surprised to see how much money you've spent on clicks from unwanted websites.
More impressions from irrelevant clicks = Lower CTR = Higher CPC's- From Google's point of view, if your ads are showing and no one clicks on them, you should pay more money for the space you are occupying.
Adsense site owners are clicking on your ads- Even though Google is doing a good job with invalid clicks, they are not perfect, and "click farms" are clicking away, costing you money.
"Wait, so if I created a display campaign and just added very specific sites-- I'm good, right?"
You're still not there yet! At the bottom of each display campaign creation page we have a tick the box option:

If you leave that tick checked, Google say that they will "automatically find placements in the Display Network that are around your current cost per customer (or Target CPA if you are using it). These placements may be different than the placements your campaign is currently using".
We usually uncheck that little box, since that's a really good way to give Google more money.
Now…..let's optimize.
So once a week, you should head over to the "Display Network" > "Placements" tabs:

Now, use the little search box and enter the words we give further down the post and see for yourself how many impressions and clicks you got for these placements, and most important - how much money did it cost you, and if you ever got any conversions (If this is the first time you are doing this, choose "All time" over there where you pick the time span you wish to view.
Disclaimer: Every Adwords account is different, and you might find some words that you will consider relevant to your account and your advertising goals.
So don't just do this like a robot and read this through, maybe you had conversions at some placements before and you don't wish to exclude them? In short - do this slowly and if you must, have an adult with you while you are doing this.
"These are not negative keywords, right? So… what do you want from us?"
Never add negative keywords to a display campaign, if that keyword will appear only once on the page-- your ads won't show. This is actually an easy optimizing trick that we have aggregated over here at Ranky, and we want to share it with you.
Here are the words that you should type in that search box and see on which sites your ads are showing:
Words that usually show up on sites where kids go to, and accidently (or not) click on
game
arcade
puzzle
sudoku
cross
doll
dragon
play
word
fan
kid
pokemon
trivia
jugo
juego
club
princess
fun
star
Sports/Music/Cooking (Again, if your account is on any of these subject - Don't!)
sport
soccer
ball
basket
Song
music
food
cook
chef
Job-related keywords (You wouldn't want unemployed people to click on your ads, right?)
job
work
career
employ
resume
salary
salaries
intern
recruit
Education Related keywords
tutorial
training
class
school
college
university
course
occupation
Miscellaneous
radio
tv
fm
health
diet
test
speed
torrent
model
style
video
pics
pictures
photo
super
download
money
convert
coin
insurance
weather
info
daily
portal
index
news
online
cheap
free
blog
Here's a quick example of just one of these keywords - "game" (Click the image to enlarge):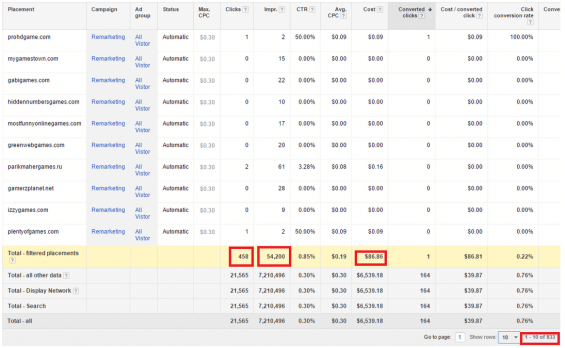 458 clicks, 54,200 impressions and $87 down the drain. And what about the conversion you ask? It was spam.
And that's just one keyword.
I'm sure that after going over this list, you are surprised as I was when I found out where my ads were showing. The cool thing here is that now with this knowledge, you can start going over your own unique placements. Since users that visit your site and then later wander off over the internet have their own unique characteristics - you'll surely find other keywords and placements that you can exclude from you Adwords display campaigns.
Use this list at your own risk as you might see CTR fly through the roof, CPC's going down and conversion rates soar!