Expat Tax Professionals are the winners of the EMMAs 'Tax Provider of the Year' award this year - and we're really proud of them!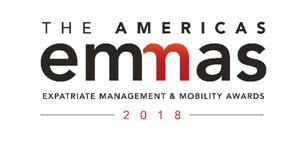 On Thursday May 24, 2018, Expat Tax Professionals have been announced to be the the winners of this year's Tax Provider of the Year award, at a glittering gala dinner at the Loews Coronado Bay Resort, San Diego, CA.
The FEM EMMAs are the premier awards for the global mobility and International HR industry and on Thursday night, following a highly successful two-day Summit, key figures, leaders and companies gathered to celebrate the brightest and best in the Americas region
Claire Tennant-Scull, Head of Content at FEM said:
"The FEM EMMAs really are the gold standard awards for the global mobility and international HR industry. They are the only truly global, yet region-specific awards with the greatest breadth of categories for both corporate professionals and service providers."
"EMMAs entries are rigorously judged by a team of fiercely impartial, highly experienced, senior figures in the industry, who are drawn from a range of disciplines across the Americas region and who give up their own free time to carry out a very thorough and demanding process. So these awards carry tremendous kudos. It's so important to receive recognition among your peers for innovation and hard work and so I think the winners and all those on the shortlist should feel extremely proud."
This year the FEM EMMAs, saw entries across 25 categories, and the independent judging panel made up of industry experts remarked on the high standard of the entries.
Judged against a strict set of criteria, the competition for this award was fierce.
The judges commented on Expat Tax Professional's entry:
"I like the customer orientation, particularly the focus on certain communities that may not have access to tax expertise in their circumstances."
We're really proud of Expat Tax Professionals' performance at the FEM Americas EMMAs and we're positive this prize is well-deserved. We've been working with Expat Tax Professionals for a few years now and we've always admired their customer focus, professionalism and work ethics. Our collaboration with Expat Tax Professionals have brought great results during all these years and this award means a lot to us at Ranky, too.